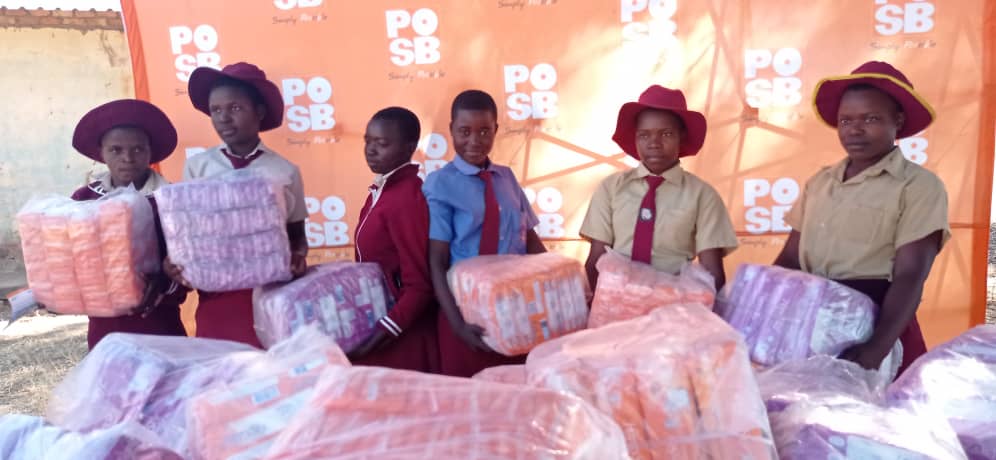 Midlands Province – 08 June 2023 – The People's Own Saving Bank (POSB), the leading financial services provider in the country, has donated sanitary wear to Marimasimbe Secondary School girls in Gokwe as part of its contribution towards promoting access to menstrual hygiene products through its 'Donate a Pad and Keep a Girl in School' launched earlier this year.
Through this initiative, staff members donate pads or leave days which are converted to cash used to purchase sanitary wear. The Bank also contributes by matching the staff donation. The pads are then distributed to the less privileged girls in marginalised communities to help keep them in school during the menstrual period.
Marimasimbe Secondary School in Gokwe South, Midlands province, becomes the first beneficiary of the POSB's sanitary pads donation after consultations with stakeholders showed that young girls at this remote school were in need of proper sanitary wear. Each girl will get pads enough to last for several months.
Mr Garainashe Changunda, the POSB Chief Executive Officer said, "As a people's bank, POSB is committed to assisting communities in which it exists and views itself as an agent of social change whose thrust is to engage in transformative programmes to improve the lives of the socially and economically vulnerable segments in the country. As such, the bank's corporate social responsibility programme focuses on education and literacy and health and philanthropy- from which the Donate a Pad initiative was born."
Many girls in Zimbabwe miss school or drop out due to lack of sanitary wear to deal with menstrual hygiene issues. This affects their education and future prospects.
"We believe that every girl deserves to have access to proper sanitary wear and to stay in school. By donating these pads, we hope to make a positive difference in the lives of these girls and empower them to achieve their dreams. This is one of the ways that POSB is ploughing back into the community," he said.
"We hope that these pads will reduce absenteeism due to poor hygiene during the girls' menstrual period. We also hope that the donation will inspire the girls to pursue their dreams and aspirations without any barriers or limitations," Mr. Garainashe Changunda said.
Mr. Changunda added that POSB plans to extend the initiative to other schools and areas in need. He also thanked the Bank's staff members who contributed towards the initiative and urged other stakeholders to join hands in addressing the menstrual health challenges in Zimbabwe.
"Lack of access to sanitary products is a real and pressing issue, one that has far-reaching consequences for teenage girls. It is everyone's responsibility to help address this challenge and try to make a difference. We should not shy away and let the stigma and silence around menstrual health stop us from talking and learning about it. Our girls deserve to have their dignity and rights preserved" he added.
The donation was received by the Headmaster of Marimasimbe Secondary School, Mr. Madendeya, who expressed his gratitude to POSB for the gesture. Mr. Madendeya said that the donation will go a long way in uplifting the girls' morale at the school.
"We are very grateful to POSB for this generous donation. This gift will help our girls to manage their periods without stress or shame, but with dignity and confidence. It will also make them come to school more often and do better in their studies. We are glad that POSB is supporting the girl child's education, health and hygiene welfare," Mr. Madendeya said.
The donation ceremony was attended by representatives from POSB, Marimasimbe Secondary School, the school's SDA committee, parents and some members of the Gokwe community.
POSB Contact
David Makacha
Public Relations Manager
Email: dmakacha@posb.co.zw
Telephone: 0242 793814
Cell: +263717927461